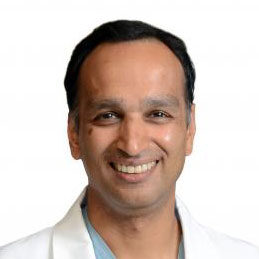 Rajiv Singal
MD, FRCSC

Associate Professor, Department of Surgery, University of Toronto
Surgeon-in Chief, Michael Garron Hospital
Active Staff - Michael Garron Hospital
Courtesy Staff - The Scarborough Hospital
Courtesy Staff - Timmins and District Hospital
Lead - MGH/Sunnybrook Surgical Robotics Program
Director of Urology - Medcan Clinic
Board Member - Michael Garron Hospital Foundation 
Board Member - Dignitas International 
Phone
(416) 469-3314
Fax
Assistant
Hospitals and Rotations
Practice Location
840 Coxwell Avenue, #218
Toronto, ON M4C 5T2
Subspecialty(ies)
Endourology, Kidney, Male Sexual Health, Minimally Invasive & Robotic Surgery
Biography
Dr. Singal grew up in Bowmanville Ontario and eventually moved to Timmins, Ontario where he graduated from high school in 1984. He went on to receive his medical degree in 1990 from the University of Toronto. He did his postgraduate surgical training in Toronto, obtaining his board certification in Urology with the Royal College of Physicians and Surgeons of Canada in 1995. A fellowship from Western University in Minimally Invasive Surgery, Shock Wave Lithotripsy and Kidney Stone disease was completed in 1996.
He joined the surgical staff at Michael Garron Hospital in 1996 and currently serves as the Surgeon-in-Chief and Co-Medical Director of Surgery Services. Since 2013, he has also served as a Board Member of the MGH Foundation and has been instrumental in stewarding a number of significant donations to MGH. He was Head of the Division of Urology from July 2001 until October 2012 and founded the Surgical Robotics Program (jointly run by MGH and Sunnybrook Health Sciences Centre) in 2012 which he continues to lead. Dr Singal is an Associate Professor in the Department of Surgery at the University of Toronto. He supervises the Clinical Endourology Fellowship program at MGH under the umbrella of the University of Toronto and also teaches undergraduate and postgraduate medical trainees. He works on Cancer Care Ontario initiatives related to prostate cancer care. Clinical areas of interest include the surgical management of kidney stones, kidney, bladder and prostate cancer as well robotic surgery and prostate disease.
Since 2016, Dr Singal has worked overseas in Malawi, Kenya, Uganda, Jamaica and China to explore opportunities to build urologic and surgical capacity in the developing world. He is the Urology lead for the Global Surgery initiative at the University of Toronto. He has previously served on the board of Dignitas International.
Dr Singal continues to spend most of his free time with his wife watching his three kids turn into amazing young adults while cheering for the Jays, Raptors and the Boston Bruins (sorry Toronto).
Memberships:
- Canadian Urological Association
- American Urological Association
- Endourological Society
- Canadian Medical Protective Association
- Ontario Medical Association
- Society of Urologic Surgeons of Ontario